Seminole (Oakhurst) Dermatologists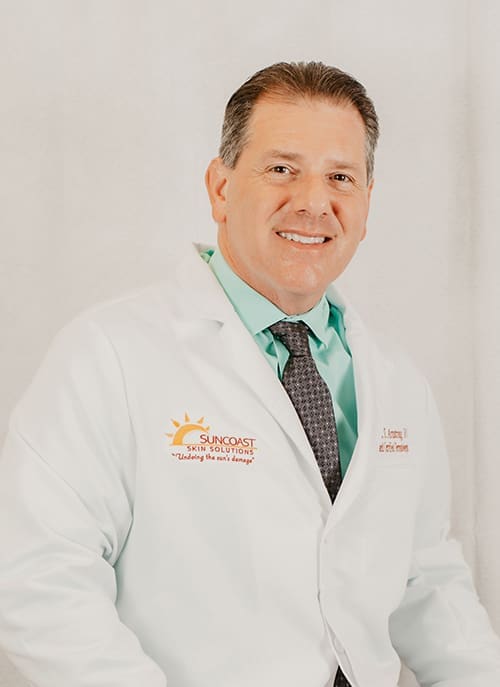 Frank Armstrong, D.O. is a board certified dermatologist and is a fellow of both the American Osteopathic College of Dermatology and the American Academy of Dermatology. Dr. Armstrong was Co-Chief resident of his dermatology residency at Suncoast Hospital/Largo Medical Center and had won numerous awards during his residency such as Resident Lecturer of the Year, the Connetics award for resident quizzes and he was also selected among his peers to be resident liaison to the AOCD.
Dr. Armstrong became board certified in dermatology by the AOBD in 2003. Dr. Armstrong also completed an Internal Medicine Residency at the St. Vincent Hospital/ University of Massachusetts affiliate in Worcester, Massachusetts and became board certified by the American Board of Internal Medicine in 2000. Dr. Armstrong was raised in Beverly. Massachusetts and is a graduate of Beverly High School, class of 1985. He then graduated in 1989 cum laude from Curry College in Milton, Massachusetts with a major in Biology, minor in Chemistry. Dr. Armstrong played men's varsity ice hockey and was Captain of the team his senior year. After obtaining his bachelors degree, he attended Salem State College and pursued a degree in Nuclear Medicine Technology, obtaining his CNMT and ARRT(N).
Dr. Armstrong then attended the University of New England College of Osteopathic Medicine and graduated in 1997. Dr. Armstrong was the one student of his entire graduating class to be awarded the prestigious "Graduate with Distinction". The "Graduate with Distinction" is the award voted by the medical school faculty for the one student that "possesses the qualities they would seek in their physician"
Dr. Armstrong has taught hundreds of residents, interns and students pursuing medical degrees and also has trained dozens of Physician Assistants and Nurse Practitioner students. Dr. Armstrong's passion for teaching is exemplified in him being a recognized national lecturer and thought leader on topics such as psoriasis, non-surgical options on treating non-melanoma skin cancer, connective tissue diseases and syphilis to name a few. The dermatology residents also recognized him as teacher of the year.
Dr. Armstrong is the past president of the Pinellas County Osteopathic Medical Society; the largest county based Osteopathic organization in the United States. He was also awarded Physician of the Year by PCOMS and has won numerous awards such as Top Physician and Best Doctors in America. He has been a supporter of HEP (Homeless Empowerment) Project in Clearwater, FL and helped PCOMS develop a scholarship program for St. Petersburg College students entering the medical field. Dr. Armstrong has been practicing dermatology in Pinellas County since 2003 focusing on medical and surgical dermatology. He feels it is an honor and privilege to care for such a wonderful community. Dr. Armstrong has earned the respect of many area physicians who choose Dr. Armstrong for their own dermatology care. Dr. Armstrong resides in Palm Harbor, FL with his wife, Sheryl and 2 sons, Nicholas and Devin.
Dr. Armstrong is currently accepting new patients at our Oakhurst, Sunset Point & Seminole locations.
For appointments call 844-SUNDERM  (844) 786-3376 or Request an Appointment Online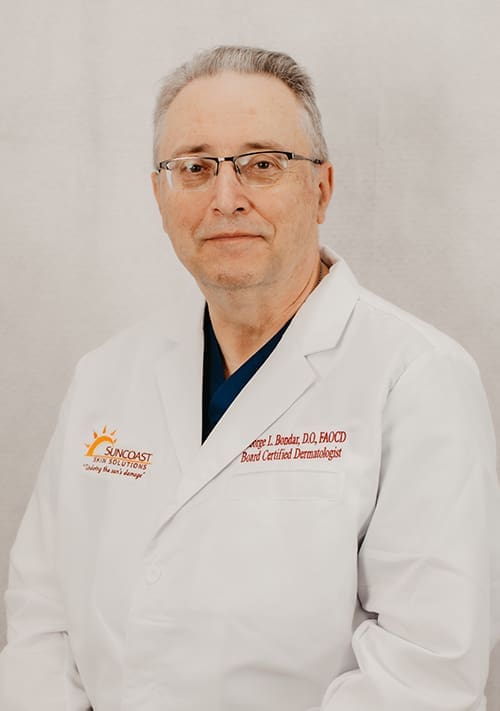 George L. Bondar, DO
, 
MPH 
board certified
Dermatologist
, is retired from the Air Force where he was the mobilization assistant to the Commander, 59th Medical Wing, Air Education and Training Command, Lackland Air Force Base, Texas.
Dr. Bondar was born in Calgary, Alberta, Canada. He graduated from The University of Saskatchewan in 1975. Prior to entering medical school, Dr. Bondar was employed as an in-house engineering management consultant for the Corporation of the City of Calgary and also as a university lecturer in business administration. He completed medical school at the West Virginia School of Osteopathic Medicine. His internship and residency in dermatology were completed at Deaconess Medical Center, St. Louis, Mo. This was followed by a dermatologic surgery fellowship at the Stough Clinic in Hot Springs, Ark. Dr. Bondar also completed a preventive medicine-occupational/ environmental residency at the Graduate School of Public Health, University of Pittsburgh and a family practice residency a Cuyahoga Falls General Hospital, Ohio.
Dr. Bondar entered the Air Force as a general medical officer via direct civilian appointment in 1989 at the 911th Tactical Airlift Group Clinic, 911th Tactical Airlift Group, Pittsburgh International Airport, Pa. He volunteered for active duty during the Persian Gulf War and served as the squadron medical element flight surgeon with the 328th Tactical Airlift Squadron, 914th Tactical Airlift Group, Niagara Falls Air Reserve Base, N.Y. He was the first Air Force Reserve flight surgeon graduate of the Advanced Airlift Training and Tactics Course.
Dr. Bondar's dermatological experience and commitment to exemplary patient care makes him a perfect addition to our Suncoast Skin Solutions team.
Dr. Bondar is currently seeing patients at our St. Petersburg office located at 6499 38th Ave. North, Suite B2, St. Petersburg, FL 33710.
For appointments call (727) 347-6635 or request online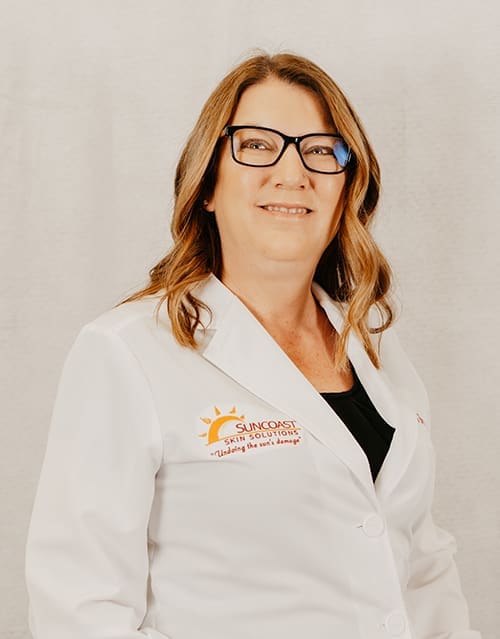 Teresa Bowman
is an adult nurse practitioner. She has more than 20 years of dermatology experience starting as a registered nurse in dermatology. She earned her Bachelor of Science in Nursing and Masters in Nursing from University of Tampa where she graduated with honors. She graduated summa cum laude with her Associates of Science in Nursing from Midway College in Kentucky.
Teresa grew up in upstate New York and loves to go back to visit the Finger Lakes region and her extended family. She spends most of her time with her 2 children, attending their sports and school activities. She is an active member in the Dermatology Nurses Association.
Teresa loves diagnosing and treating skin cancers and all skin disorders. Her passion for dermatology is undeniable. She prides herself on educating her patients on skin disease and skin care.
Teresa is now seeing patients at our Seminole Blvd office
For appointments call 844-SUNDERM  (844) 786-3376 or Request an Appointment Online