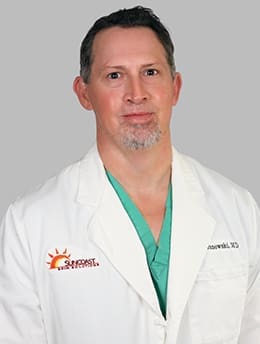 Christopher Ewanowski, M.D., is one of only a handful of Board Certified, Fellowship-Trained Dermatologic Surgeons in the Bay Area specializing in Mohs Micrographic Surgery, laser surgery, and reconstructive dermatologic surgery.
He is a native of Tampa, attended Jesuit High School, and was an undergraduate at The University of South Florida. After receiving his M.D. from the University of South Florida College of Medicine in 2003, he completed a plastic and general surgical internship at the University of California San Francisco. As a dermatology resident at Georgetown University Hospital, he began to emphasize the advanced surgical management of skin disorders including skin cancer surgery, laser surgery, and reconstructive surgery. After completing his training at Georgetown in 2007, he was one of approximately 65 dermatologists in the world to begin a Dermatologic Surgery fellowship emphasizing skin oncology and Mohs, laser, and reconstructive surgery. This fellowship, approved by the American College of Mohs Micrographic Surgery, was completed in 2008, under the tutelage of Pearon Lang M.D. and Joel Cook M.D., two of the most talented and well-recognized Mohs surgeons in the United States.
With this wealth of experience, he returned home and opened Suncoast Skin Solutions in July of 2008.
Dr. Ewanowski is an expert in the management of facial skin cancer, laser surgery, and advanced cosmetic techniques performed with local anesthesia. If you desire a consultation, please contact him.
Dr. Ewanowski is currently accepting surgical patients at our Brandon, Largo, and Lutz offices.
For appointments, please call 1-844-SUN-DERM (1-844-786-3376) or request online.