Daytona Beach Dermatologist
Dr. Andrew Styperek
is a fellowship trained, board-certified 
dermatologist
. He attended Harvard University in Boston, MA, where he completed undergraduate studies and earned his B.A. degree. He then went on to medical training at Atlanta's renowned Emory University School of Medicine. His residency training was completed here in Florida, at University of Miami School Medicine. From 2013 through 2014, he was the Chief Resident. After completing residency training, Dr. Andrew underwent advanced training at Houston Methodist Hospital under the instruction of Dr. Leonard Goldberg. He completed an extensive fellowship program including Mohs micrographic surgery, as well as laser and
cosmetic
surgeries.
Dr. Andrew is committed to furthering his own education, and the knowledge of the medical community. He regularly participates in continuing education, as well as conducting in-depth clinical research. He is a sought-after speaker who has lectured around the world. Additionally, he has been published in many peer-reviewed medical journals.
A dedicated doctor, he is passionate about excellence in patient care. Areas of special interest and expertise include skin cancer diagnosis and treatment, cosmetic and anti-aging treatments, and venous disease management.
When away from the office, Dr. Andrew enjoys sports and outdoor activities. In college, he was a member of the Harvard tennis team (NCAA division I), and to this day he is still an avid tennis player. Dr. Andrew, his wife, and their daughters reside in Broward County, Florida.
Education & Training:
Residency: University of Miami School Medicine, Miami, FL
Medical Degree: Emory University School of Medicine, Atlanta, GA
Graduate Degree: Harvard University in Boston, MA
Undergraduate Degree: Harvard University in Boston, BA
For appointments call (844) 786-3376 or request online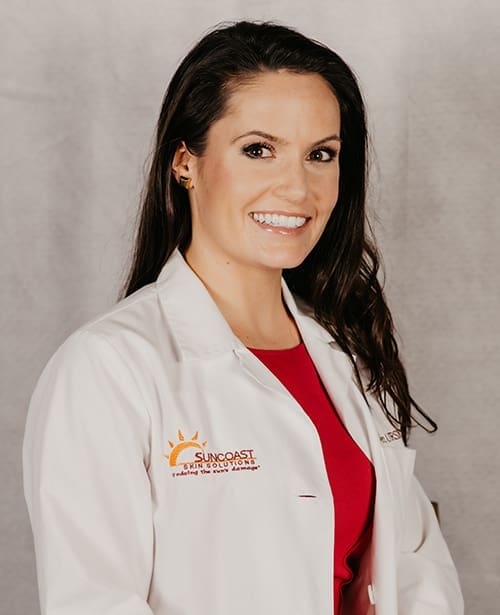 Colleen Ursic, PA-C
 was born and raised in Lusby, Maryland, a small town in Southern Maryland that according to Colleen no one has ever heard of. Colleen obtained her Bachelor of Science degree in Human Nutrition from, Food and Exercise Science and her Bachelor of Arts in Chemistry from Virginia Polytechnic. Upon graduation, Colleen relocated to Florida to attend the University of Florida where she obtained her Master of Science in Physician Assistant studies. Colleen always knew dermatology was her field of interest and worked as a Tech/Medical assistant for a Mohs surgeon while attending Virginia Tech. Colleen is a current member of the Florida Academy of Physician Assistants and American Academy of Physician Assistants.
Colleen loves anything related to water and grew up on a river so fishing, crabbing, wakeboarding, waterskiing, paddleboarding tops her list of how she spends her free time. She does want everyone to know that she always wears her sunscreen and hat. Colleen also enjoys participating in 5k running events because she feels it's a great way to support a good cause and get a work out in as well. Colleen is looking forward to enticing her family to move south and join here in Florida. One of Colleen's personal goals is to visit every single state at least once by the time she is 32. We all know that as friendly as Colleen is, she will surely make new friends in every place she visits.
Suncoast Skin Solutions welcomes Colleen to the team. She is seeing new patients at our Daytona Beach office located at 655 N. Clyde Morris Blvd., Daytona Beach, FL 32114.
For appointments call 386-252-5578 or request online