Largo at Seminole Dermatologist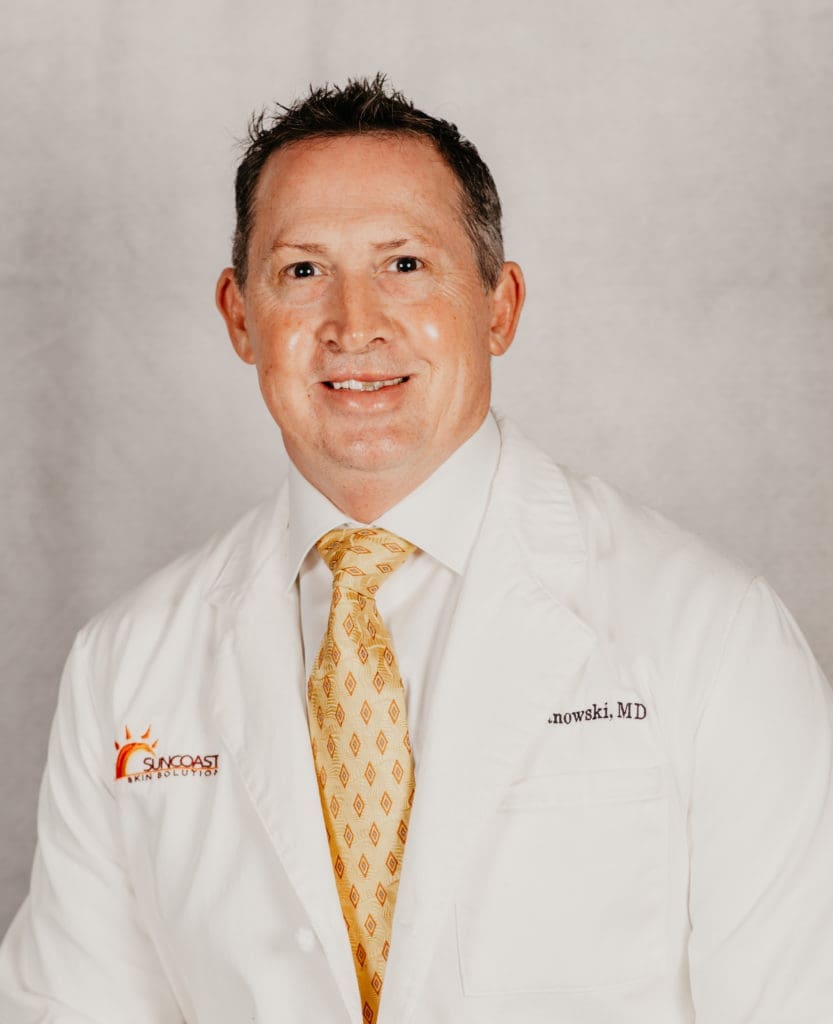 Christopher Ewanowski, M.D
., is one of only a handful of Board Certified, Fellowship-Trained Dermatologic Surgeons in the Bay Area specializing in Mohs Micrographic Surgery, laser surgery, and reconstructive and
cosmetic
dermatologic surgery.
He is a native of Tampa, attended Jesuit High School, and was an undergraduate at The University of South Florida. After receiving his M.D. from the University of South Florida College of Medicine in 2003, he completed a plastic and general surgical internship at the University of California San Francisco. As a dermatology resident at Georgetown University Hospital, he began to emphasize the advanced surgical management of skin disorders including skin cancer surgery, laser surgery, and reconstructive surgery. After completing his training at Georgetown in 2007, he was one of approximately 65 dermatologists in the world to begin a Dermatologic Surgery fellowship emphasizing skin oncology and Mohs, laser, and reconstructive surgery. This fellowship, approved by the American College of Mohs Micrographic Surgery, was completed in 2008, under the tutelage of Pearon Lang M.D. and Joel Cook M.D., two of the most talented and well-recognized Mohs surgeon in the United States.
With this wealth of experience, he returned home and opened Suncoast Skin Solutions, with both a Tampa and a Clearwater location, in July of 2008.
Dr. Ewanowski is an expert in the management of facial skin cancer, laser surgery, and advanced cosmetic techniques performed with local anesthesia. If you desire a consultation, please contact him.
For appointments call (844) 786-3376 or request online
Christopher Ballard, MD

 
is a board-certified
dermatologist
. He attended the University of Miami and in 2002 graduated cum laude with a Bachelor of Science degree in Biology. He was honored to be a member of Phi Beta Kappa, our nation's most prestigious honor society.  After being accepted into the seven-year advanced Medical Scholars program, Dr. Ballard graduated from the University Of Miami School    Of Medicine in 2007.  During his final year, he was elected to the distinguished Alpha Omega Alpha National Medical Honor Society.  In between his medical studies, he did a year of research where he wrote numerous publications and developed a love for dermatology.
Dr. Ballard completed his internship and dermatology residency at the University of Miami/Jackson Memorial Hospital in 2011.  He is a Fellow of the American Academy of Dermatology and a Diplomate of the American Board of Dermatology.
Dr. Ballard worked with the Diagnostic Clinic in Clearwater and Largo, FL prior to joining Suncoast Skin Solutions in 2017.  Dr. Ballard's practice mostly focuses on skin cancer, skin cancer screenings, and general dermatology.
When he is not in the office, Dr. Ballard enjoys spending time with family and friends, traveling, running, swimming, going to the gym, watching movies, and enjoying the beautiful sunsets of Tampa Bay.
Dr. Ballard is seeing patients at our Suncoast Skin Solutions office located at 11200 Seminole Blvd. Suite 205, Largo, FL 33778.
For appointments call (844) 786-3376 or request online